New video for 'As Fast As Possible'
Details

Published on Monday, 11 November 2013 12:47
After of more than three months of making, the video for As Fast As Possible is finally done! We recorded it on several places with a combination of using vintage cameras and stop motion animation, a lot of make up, and some help of our parents. It was a tiring and very amusing, the whole experience. We hope you like it! If you do or don't, do go to our facebook page and tell us what you think!
New Album Rewiews
Details

Published on Monday, 19 August 2013 12:21
Lately we got a number of reviews, some of them bad, some of them surprisingly well, some of them in Serbian, and the others in English. We say a big thanks to all of them that took their time reviewing our baby! In near future we expect more to come.
English:
Serbian:
Croatian:
Album release party
Details

Published on Thursday, 15 August 2013 13:00
Last Wednesday on the August the 14th, Spring and Youth had an evening of joy and music in Paraćin at the rock club "Mason", the town where Filip and Marko originate from. There was a public listening of the whole album, and there was a short gig, where Filip, Marko and Darko played several songs unplugged, acoustic guitar, drums, and vocals. They did some nice covers too. A lot of people from Paraćin came, and it was great to see the band 60% onstage and 80% there, since Ivan lost his bass in an unfortunate accident.
There will be some video soon! Until then see the photos.
Cheers!
Spring and Youth interview for bruskin.me
Details

Published on Wednesday, 29 May 2013 20:23
We got a call from Tomislav from Montenegrin internet radio Bruškin (bruskin.me). Marko answered some of their questions considering our new album.
(The whole interview is in serbian)
Feetless video released!
Details

Published on Thursday, 14 February 2013 19:33
Video for Spring and Youth song, Feetless, recorded during our gig on 22.7. on Ladja by our friends, has finally saw the light of the day! Thanks to Dusan, Damir, Milos, Gordana, Marko, Uros, Srdjan, Milica and Brodar, who recorded it, and Aleksandar Hristic Boba, who edited it! Enjoy!
S&Y, Through Art and Equinox Live
Details

Published on Sunday, 22 July 2012 22:12
Tonight, there is a farewell gig, for our dear Darko Varga, on Ladja, starts around 22. There, you will be able to hear the last Spring and Youth live, for awhile, because Darko goes to Miami for two years to study his piano.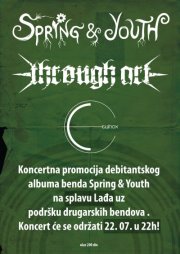 Heavy live
Details

Published on Saturday, 21 July 2012 08:41
We recorded live rehearsals session at Bigz, in Studio Pi, it was great!
Between the Irony!
Details

Published on Monday, 16 July 2012 12:13
We are excited to announce he album is finally mixed, mastered and done for listening! We just have to find someone to publish it. It has 8 songs,
Kidd Prelude
Two Orangeez
Heavy
Feetless
Muriatic
As Fast As Possible
Play
Four And A Half
45 minutes of random events.
You can hear it whole on http://springandyouth.bancamp.com for free, but you can't download it.
Spring and Youth enters the studio
Details

Published on Sunday, 01 April 2012 18:41
On the first of April, Spring and Youth entered the Digimedia studio for recording the first album! It all starts, after years and years of existence, finally, a chance to actually record something! It is going to be fun, with big N!